Download a printable list of Marty's books by series and in order.
The First Edition Library mysteries are set in the lovely Georgian spa town of Bath. Here we find Hayley Burke, curator of an impressive collection of books from the Golden Age of Mystery—Agatha Christie, Dorothy L. Sayers, Ngaio Marsh, Margery Allingham, and all the rest. Too bad Hayley has never read a detective story in her life.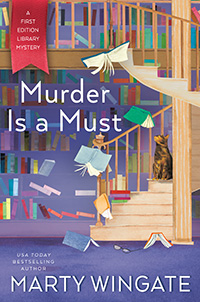 Murder Is a Must (December 1, 2020)
"Lively and engaging."
—Kirkus
Hayley Burke is determined to make the First Edition Library a success, but she hadn't counted on having to solve an old friend's murder in this all-new mystery.
Hayley is settling into her position as curator of the First Edition Library at Middlebank House in Bath, England and is busy preparing for an exhibition that will showcase library founder Lady Fowling's life and letters. Hayley knows the exhibition is a huge undertaking and decides, against her better judgment, to hire Oona Atherton, her former demon of a boss from the Jane Austen Centre, as exhibition manager.
Hayley learns that Lady Fowling owned a priceless edition of Murder Must Advertise by Dorothy L. Sayers, signed by many authors of the Golden Age of Mystery. This could be the big draw at the exhibition, but where is the book? When Oona texts Hayley with the news that she know where it is, Hayley rushes over only to find Oona dead at the bottom of a spiral staircase. Did her discovery of the whereabouts of the rare book get Oona killed or was it some angry shadow from her past? Hayley must read between the lines to catch a malicious murderer.
Buy it: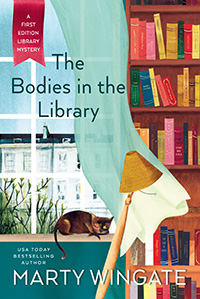 The Bodies in the Library (2019)
A CrimeReads 2019 Notable Selection — Traditional Mysteries
Hayley Burke has landed a dream job. She is the new curator of Lady Georgiana Fowling's First Edition library. The library is kept at Middlebank House, a lovely Georgian home in Bath, England. Hayley lives on the premises and works with the finicky Glynis Woolgar, Lady Fowling's former secretary.
Mrs. Woolgar does not like Hayley's ideas to modernize The First Edition Society and bring in fresh blood. And she is not even aware of the fact that Hayley does not know the first thing about the Golden Age of Mysteries. Hayley is faking it till she makes it, and one of her plans to breathe new life into the Society is actually taking flight–an Agatha Christie fan fiction writers group is paying dues to meet up at Middlebank House.
But when one of the group is found dead in the venerable stacks of the library, Hayley has to catch the killer to save the Society and her new job.
Buy it: