Potting Shed mysteries
Download a printable list of Marty's books by series and in order.
Pru Parke, middle-aged gardener from Dallas, uproots herself and moves to England to start a new life, where she finds more than she bargained for—from digging up Roman ruins in a client's garden to taking part in an outdoor Shakespeare production.
The Potting Shed mysteries are back and available in both ebook and print (audio, too)!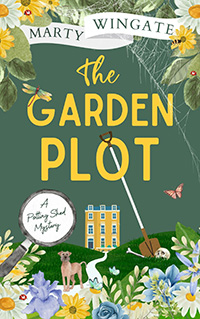 The Garden Plot (2014)
Pru Parke always dreamed of living in England. And after the Dallas native follows an impulse and moves to London, she can't imagine ever leaving—though she has yet to find a plum position as a head gardener. Now, as the sublet on her flat nears its end, the threat of forced departure looms. Determined to stay in her beloved adopted country, Pru takes small, private gardening jobs throughout the city.
On one such gig in Chelsea, she makes an extraordinary find. Digging in the soil of a potting shed, Pru uncovers an ancient Roman mosaic. But enthusiasm over her discovery is soon dampened when, two days later, she finds in the same spot a man's bludgeoned corpse. As the London police swarm her worksite, ever inquisitive Pru can't quite manage to distance herself from the investigation—much to the dismay of stern Detective Chief Inspector Christopher Pearse. It seems that, much as he tries, even handsome DCI Pearse can't keep Pru safe from a brutal killer who thinks she's already dug up too much.
Buy it:
---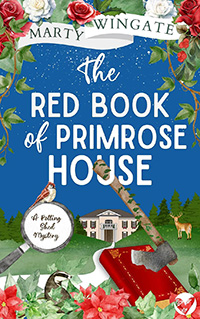 The Red Book of Primrose House (2014)
Pru Parke has her dream job: head gardener at an eighteenth-century manor house in Sussex. The landscape for Primrose House was laid out in 1806 by renowned designer Humphry Repton in one of his meticulously illustrated Red Books, and the new owners want Pru to restore the estate to its former glory—quickly, as they're planning to showcase it in less than a year at a summer party.
But life gets in the way of the best laid plans: When not being happily distracted by the romantic attentions of the handsome Inspector Christopher Pearse, Pru is digging into the mystery of her own British roots. Still, she manages to make considerable progress on the vast grounds—until vandals wreak havoc on each of her projects. Then, to her horror, one of her workers is found murdered among the yews. The police have a suspect, but Pru is certain they're wrong. Once again, Pru finds herself entangled in a thicket of evil intentions—and her, without a hatchet.
Buy it:
---
Between a Rock and a Hard Place (2015)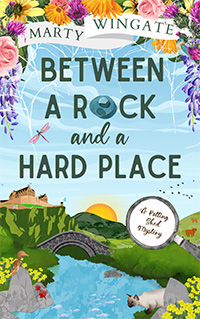 After her romantic idyll with the debonair Detective Chief Inspector Christopher Pearse culminates in a marriage proposal, Pru Parke sets about arranging their nuptials while diving into a short-term gig at the Royal Botanic Garden Edinburgh. At hand is the authentication of a journal purportedly penned by eighteenth-century botanist and explorer Archibald Menzies. Compared to the chaos of wedding planning, studying the journal is an agreeable task… that is, until a search for a missing cat leads to the discovery of a dead body: One of Pru's colleagues has been conked on the head with a rock and dumped from a bridge into the Water of Leith.
Pru can't help wondering if the murder has something to do with the Menzies diary. Is the killer covering up a forgery? Among the police's many suspects are a fallen aristocrat turned furniture maker, Pru's overly solicitous assistant, even Pru herself. Now, in the midst of sheer torture by the likes of flamboyant wedding dress designers and eccentric church organists, Pru must also uncover the work of a sly murderer—unless this bride wants to walk down the aisle in handcuffs.
BUY IT:
---
The Skeleton Garden (2016)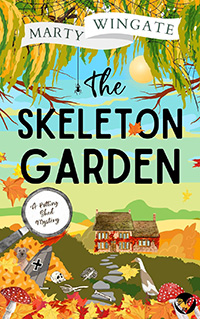 Texas transplant Pru Parke has put down roots in England, but she never dreamed she'd live in a grand place such as Greenoak. When her former employers offer Pru and her new husband, former Detective Chief Inspector Christopher Pearse, the use of their nineteenth-century estate while they're away for a year, she jumps at the chance. Sweetening the deal is the prospect of further bonding with her long-lost brother, Simon, who happens to be Greenoak's head gardener. But the majestic manor has at least one skeleton in its closet—or, rather, its garden.
Working on renovations to the extensive grounds, siblings Pru and Simon squabble about everything from boxwood to bay hedges. But when the removal of a half-dead tree turns up the wreckage of a World War II–era German fighter plane and a pile of bones, the arguments stop. That is, until a rival from Simon's past pays a surprise visit and creates even more upheaval. It's suddenly clear someone is unhappy their secrets have been unearthed. Still, Pru's not about to sit back and let Simon take the fall for the dirty deed without a fight.
BUY IT:
---
The Bluebonnet Betrayal (2016)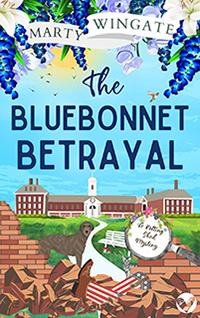 Pru's life in England is coming full circle. A Texas transplant, she's married to the love of her life, thriving in the plum gardening position she shares with her long-lost brother, and prepping a Chelsea Flower Show exhibit featuring the beloved bluebonnets of the Texas hill country. Technically, Twyla Woodford, the president of a gardening club in the Lone Star State, is in charge of the London event, but Pru seems to be the one getting her hands dirty. When they finally do meet, Pru senses a kindred spirit—until Twyla turns up dead.
Although Twyla's body was half buried under a wall in their display, Pru remains determined to mount a spectacular show. Twyla would have insisted. So Pru recruits her husband, former Detective Chief Inspector Christopher Pearse, to go undercover and do a bit of unofficial digging into Twyla's final hours. If Pru has anything to say about it, this killer is going to learn the hard way not to mess with Texas.
BUY IT:
---
Best-Laid Plants (2017)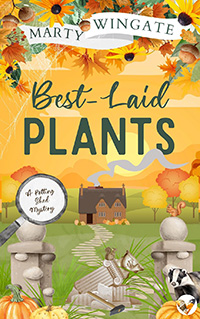 A trip to the English countryside turns into a brush with death for Pru Parke, the only gardener whose holiday wouldn't be complete without a murder to solve.
Pru and her husband, former Detective Chief Inspector Christopher Pearse, are long overdue for a getaway. So when Pru is invited to redesign an Arts and Crafts garden in the picturesque Cotswolds, she and Christopher jump at the chance. Unfortunately, their B&B is more ramshackle than charming, and the once thriving garden, with its lovely Thyme Walk, has fallen into heartbreaking neglect. With the garden's owner and designer, Batsford Bede, under the weather, Pru tackles the renovation alone. But just as she's starting to make headway, she stumbles upon Batsford's body in the garden—dead and pinned beneath one of his limestone statues.
With such a small police force in the area, Christopher is called upon to lead the investigation. Pru can't imagine anyone murdering Batsford Bede, a gentle man who preferred to spend his time in quiet contemplation, surrounded by nature. But as her work on the garden turns up one ominous clue after another, Pru discovers that the scenery is more dangerous than she or Christopher could have anticipated.
BUY IT:
---
Midsummer Mayhem (2018)
Shakespeare comes to Hampshire—and Pru Parke is cast into the role of cunning detective gardener once again.
Pru's friends and neighbors are abuzz with the news of an acting troupe putting on an outdoor performance of A Midsummer Night's Dream. And while many are eager to catch a glimpse of famed actor Ambrose Grant, Pru can't wait to finally see the spectacular gardens of the private estate where the play will be performed. When the estate's gardener abruptly quits—frustrated with actors trampling his beloved plants—Pru is called upon for her gardening expertise. She throws herself into creating magical woodland forest scenes, and is quickly drawn into the excitement of putting on a play, as she watches the drama on and off the stage. But the play's suddenly no longer the thing, when one of the actors turns up murdered.
Pru's husband, Detective Inspector Christopher Pearse, relies on Pru's knowledge of all the players in this particular intrigue, and Pru finds herself using rehearsals to investigate. But playing the role of private eye could prove perilous for Pru, as she closes in on a murderer who won't let anyone—least of all the gardener—keep him from stopping the show… dead.
---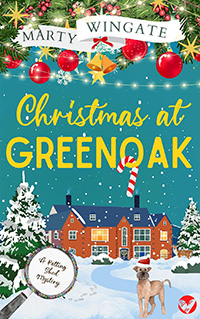 Christmas at Greenoak, a Potting Shed Story (2019)
Pru Parke takes on the most serious challenge of her life: cooking an entire Christmas feast alone. But she is distracted by a mysterious plant vendor at a local holiday market, who appears and disappears into the night. He seems familiar, and yet…
Join Pru and Christopher as they suss out this stranger while Pru contends with cooking a turkey fit for a crowd. Just how many potatoes and sprouts can two people eat?

---
Bittersweet Herbs (2021)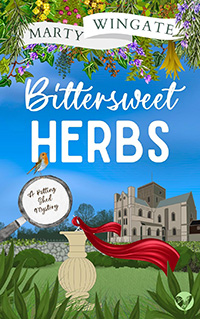 Home at Greenoak in Hampshire, Texas transplant Pru Parke joins a society to establish a medieval herb garden near the twelfth-century Hospital of St. Cross in Winchester. But when a flamboyant supporter of the garden who promised a million-pound donation is found hanged, Pru finds herself drawn into more than the study of medieval gardens.
A dangerous herbal concoction made from an ancient recipe was found near the body. Had the poison been taken willingly or under duress? Was it suicide or murder? Murder, police say. Detective Inspector Christopher Pearse—Pru's husband, partner in crime-solving, and the only one legally allowed to do so—is called in on the case by Detective Superintendent John Upstone, who was Christopher's first "guv" more than twenty years earlier.
Murder is a fact, but motives involve emotions—deep grudges, resentment, jealousy, revenge. Who are the likely suspects? What will happen to that promised huge donation? Pru and Christopher investigate. Like walking two different paths in the garden, she follows her heart and he follows the evidence, but they end up with the same answer: someone else is in danger.