London Ladies' Murder Club
Download a printable list of Marty's books by series and in order.
Fiercely independent Mabel Canning can't wait to begin working for the Useful Women's Agency. But when she discovers a body on her client's doorstep, it's time to add solving murders to her job description…
A Body on the Doorstep (January 2024)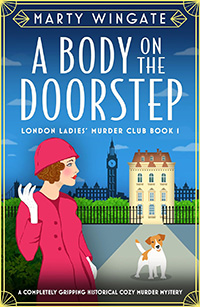 London, 1921: Mabel Canning is proud to be a modern woman working for the Useful Women's Agency, carrying out tasks for gentlewomen from flower arranging to washing muddy dogs. But when she answers the door for wealthy widow Rosalind Despard, she almost chokes on her cucumber sandwich whenshe finds a soldier's body on the doorstep.
As she offers tea to the policemen of Scotland Yard, Mabel can't resist getting drawn into the investigation. Who was the mysterious dead man? And why was he holding a letter for Rosalind, written by her husband on the day he disappeared?
As Mabel hunts for clues, she joins forces with Rosalind's handsome brother, former detective Park Winstone, and his adorable terrier, Gladys. But when Mabel suspects she is being followed, the detective duo know that time is running out before the killer strikes again.
BUY IT:

---
A Body at the Séance (January 2024)
London, 1921: As a winter wind blows through the streets of London, Mabel Canning is hired by the Useful Women's Agency to attend a séance at the home of famous medium Madame Pushkana. But when Mabel hears a choking noise and a loud thud, she quickly turns on the lights to find herself at the scene of a murder.
The victim is none other than Stamford Plomley, whose widow arranged the séance after he died in a fire eight months ago. How did he come back from the dead without a scorch mark on him? And could one of their assembled party of gentlewomen have killed him… again?
When Scotland Yard arrive, the police try to stop Mabel from interfering. But having just formed the London Ladies' Murder Club, Mabel isn't going anywhere. And with the help of former detective Park Winstone, she begins to piece together what really happened at the ghostly gathering.
But when Mabel receives a threatening letter warning her to stay away from the case, she realises the murderer may have another victim in mind. With time running out, will she hit a dead end? Or can she keep herself from becoming the next one to be sent to an early grave?
BUY IT: