STANDALONES
The Orphans of Mersea House (August 9, 2022)
"This is a beautifully written story that reminds us what it means to have friends and family, the importance of friendship, acceptance, and the joy of being in love. A truly remarkable and enjoyable read, I would recommend this book to everyone!"
—Red Pillows
England, 1957. Olive Kersey's only love never returned from World War II, and now, she's alone and penniless. Then, the last person she ever expected to see again returns to Southwold. Olive's childhood friend, Margery Paxton, arrives to claim her inheritance: Mersea House, a stately old home she plans to turn into the town's only lodging. Olive's life takes a sunny turn when Margery hires her to run the establishment. But Mersea House holds its own mysteries—and its own dangers.
First, rumors begin to fly when two enigmatic lodgers move in: Hugh Hodson, manager of the town cinema, and Mrs. Abigail Claypool, a recluse and war widow. And then, the completely unexpected: Margery is informed she has a new ward, eleven-year-old Juniper Wyckes, the orphaned daughter of Margery's first love. Mrs. Lucie Pagett, Children's Officer at the local authority, informs Margery that Juniper was severely stricken with polio as a child, and makes clear that she could be taken away if her welfare is in jeopardy.
Olive fears Juniper is being bullied at school because of her disability, even as the girl begins to thrive at home. But the past is never far behind for the inhabitants of Mersea House, and looming secrets may destroy these friendships they've created.
BUY it:
---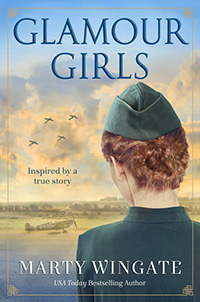 Glamour Girls (2021)
"[Wingate's] command of WWII history and the uncelebrated roles of women is exemplary, and the emotional resonance makes this a deeply fulfilling read."
—Booklist (Starred Review)
"Fans of strong women defying the odds will love Wingate's novel of Englishwoman Rosalie Wright's struggle to become a pilot during World War II—there's friendship, romance, adventure, and wonderful attention to period detail."
—Susan Elia MacNeal, New York Times bestselling author of the Maggie Hope series
"Glamour Girls feels so real it's like reading a personal diary of the brave women who were unsung heroes of WWII. Marty Wingate has managed to get the feel for wartime Britain spot on. Well done!"
—Rhys Bowen, New York Times bestselling author
USA Today bestselling author Marty Wingate's historical debut will delight readers of Kelly Rimmer's The Things We Cannot Say and Noelle Salazar's The Flight Girls.
During World War II, farmer's daughter Rosalie Wright becomes a pilot assisting the RAF. But will a romantic rivalry send her aerial dreams plummeting to earth?
Ever since she was 10 years old, Rosalie Wright's eyes have been on the skies. But at the age of 18, on the verge of earning her pilot's license, the English farmer's daughter watches her dreams of becoming an aviatrix fly away without her. Britain's entry into World War II brings civilian aviation to a standstill. Then, Rosalie's father dies, leaving her, her mother, and her brothers to run the farm.
Everything changes when she learns that the Air Transport Authority is recruiting women pilots to ferry warplanes across Britain to RAF bases. Despite her mother's objections, Rosalie cannot resist the call of her country–and the lure of the skies. During her training on Gipsy Moth aircraft, Rosalie forms a fast friendship with fellow flyer Caroline Andrews. Her trusty Ferry Pilots Notebook by her side, Rosalie delivers to five airfields in a day–while fighting an endless battle against skeptical male pilots and ground crews.
She would much rather spend her time on the wing than on the arm of any man…until she meets gruff pilot Snug Durrant and RAF squadron leader Alan Chersey. Snug is a cynical, wisecracking playboy, and Alan is every WAAF's heartthrob…and Rosalie catches both their eyes. As the war drags on, and casualties mount, will love and tragedy send Rosalie's exhilarating airborne life crashing to the ground?
Buy it: