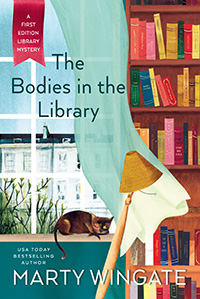 The Bodies in the Library (available in hardcover and ebook) will introduce you to my new series, the First Edition Library mysteries. You can buy it now from your local bookstore or favorite online retailer.
Hayley Burke's fresh start as the curator of The First Edition Society's library in Bath, England, takes a rotten turn when a member of an Agatha Christie fan fiction writers group is found dead in the stacks…
Buy it:
Buy a signed copy:

Also Available!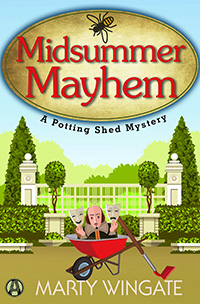 Shakespeare comes to Hampshire—and Pru Parke is cast into the role of cunning detective gardener once again.
Pru's friends and neighbors are abuzz with the news of an acting troupe putting on an outdoor performance of A Midsummer Night's Dream. And while many are eager to catch a glimpse of famed actor Ambrose Grant, Pru can't wait to finally see the spectacular gardens of the private estate where the play will be performed. When the estate's gardener abruptly quits—frustrated with actors trampling his beloved plants—Pru is called upon for her gardening expertise. She throws herself into creating magical woodland forest scenes, and is quickly drawn into the excitement of putting on a play, as she watches the drama on and off the stage. But the play's suddenly no longer the thing, when one of the actors turns up murdered. 
Pru's husband, Detective Inspector Christopher Pearse, relies on Pru's knowledge of all the players in this particular intrigue, and Pru finds herself using rehearsals to investigate. But playing the role of private eye could prove perilous for Pru, as she closes in on a murderer who won't let anyone—least of all the gardener—keep him from stopping the show… dead.
Buy it: