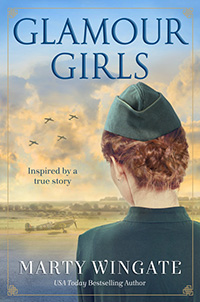 Glamour Girls—January 12, 2021
"[Wingate's] command of WWII history and the uncelebrated roles of women is exemplary, and the emotional resonance makes this a deeply fulfilling read."
—Booklist (Starred Review)
"Fans of strong women defying the odds will love Wingate's novel of Englishwoman Rosalie Wright's struggle to become pilot during World War II—there's friendship, romance, adventure, and wonderful attention to period detail."
—Susan Elia MacNeal, New York Times bestselling author of the Maggie Hope series
"Glamour Girls feels so real it's like reading a personal diary of the brave women who were unsung heroes of WWII. Marty Wingate has managed to get the feel for wartime Britain spot on. Well done!"
—Rhys Bowen, New York Times bestselling author
USA Today bestselling author Marty Wingate's historical debut will delight readers of Kelly Rimmer's The Things We Cannot Say and Noelle Salazar's The Flight Girls.
During World War II, farmer's daughter Rosalie Wright becomes a pilot assisting the RAF. But will a romantic rivalry send her aerial dreams plummeting to earth?
Learn more about Glamour Girls
---
Also Available: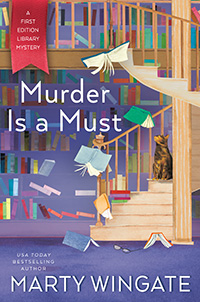 Murder Is a Must
"Lively and engaging."
—Kirkus
Hayley Burke is determined to make the First Edition Library a success, but she hadn't counted on having to solve an old friend's murder in this all-new mystery.
Hayley is settling into her position as curator of the First Edition Library at Middlebank House in Bath, England and is busy preparing for an exhibition that will showcase library founder Lady Fowling's life and letters. Hayley knows the exhibition is a huge undertaking and decides, against her better judgment, to hire Oona Atherton, her former demon of a boss from the Jane Austen Centre, as exhibition manager.
Hayley learns that Lady Fowling owned a priceless edition of Murder Must Advertise by Dorothy L. Sayers, signed by many authors of the Golden Age of Mystery. This could be the big draw at the exhibition, but where is the book? When Oona texts Hayley with the news that she know where it is, Hayley rushes over only to find Oona dead at the bottom of a spiral staircase. Did her discovery of the whereabouts of the rare book get Oona killed or was it some angry shadow from her past? Hayley must read between the lines to catch a malicious murderer.